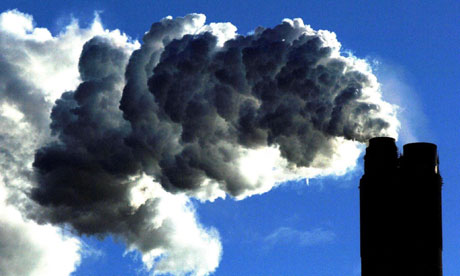 The global output of heat-trapping carbon dioxide has jumped by a record amount, according to the US department of energy, a sign of how feeble the world's efforts are at slowing man-made global warming.
The figures for 2010 mean that levels of greenhouse gases are higher than the worst case scenario outlined by climate experts just four years ago.
"The more we talk about the need to control emissions, the more they are growing," said John Reilly, the co-director of MIT's Joint Program on the Science and Policy of Global Change.
- More -
Big Time Climate Skeptic No Longer Skeptical
Did you see on Fox News where Richard Muller, perhaps the most convincing of the climate skeptics, has changed his position on global climate change? No?
The change of course comes as a result of his own two year research project. Amazingly enough, the project was partially financed by petro pimps the Koch Brothers. Muller, a prominent physicist and faculty member at the University of California, Berkeley and Lawrence Berkeley National Lab, originally set out to investigate the errors of the so called ClimateGate fake scandal. To his credit, he concluded that the evidence for rapidly heating climate is undeniable and that the data is essentially the same of that produced by the National Oceanic and Atmospheric Administration and NASA.
So here's a big CatMap shout out to Prof Muller for having the integrity and fearlessness to call the science as he sees it. The trait is sadly lacking among the plundering class.
-
More
-
Romney Estate Tax would save the Cock Brothers up to $8.7m Each
Tomorrow, 2012 GOP presidential hopeful Mitt Romney is slated to give a "
major spending policy speech
" at Americans For Prosperity's Defending the American Dream Summit. Both the conference and AFP itself are funded by money from the billionaire Koch Brothers.
- More -